Fairy Cushion
Width: 400mm
Depth: 400mm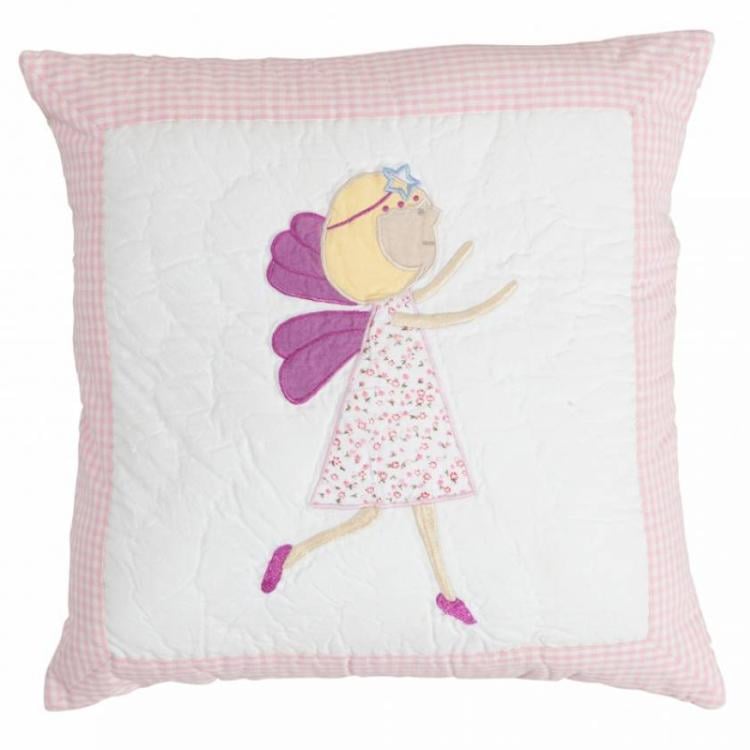 Our Thoughts…
This gorgeous Fairy Cushion is hand quilted with pink gingham border and exquisitely appliqued fairy motif.
Technical Information & Sizes
100% cotton. Includes cushion pad.
Size: 40cm x 40cm.
Girls cushion care instructions: Machine washable at 30 degrees.
Fairy Cushion
Width: 400mm
Depth: 400mm
Spend £1,500.00 or more to qualify for 0% finance over 12 monthly payments
Customer reviews
I just wanted to say thanks again for the lovely furniture for our daughter. She loves it as did our other daughter when she had her Lucy willow furniture delivered two years ago.
The bed is lovely. Our son loves it.
We are beyond thrilled with our bedroom sets that we got for our girls (two of each of the following: pick and mix combination wardrobes, bedside table, bookcase and chest of drawers). They are beautifully made, solid and stunning to look at, I almost cried when they were unwrapped! The delivery too was amazing, the guys brought all the items into each room, arranged them where I wanted and unwrapped them and took away all of the rubbish. We are expecting this furniture to last our girls for years and years and it hasn't disappointed on arrival, it is such good quality and so pretty, the service we have received from yourself through to delivery has been outstanding, we'll be back to buy beds next! Thank you again, we are so so happy with them, everyone comments on the furniture when they see it and I'm always happy to tell them where it came from.
Finance Available
Spend £1500.00 or more and qualify for one of our finance options
Money Back Guarantee
100% GUARANTEE
A no nonsense money back guarantee.
Shop with Confidence